Of all the Dine Out Vancouver restaurant we booked in 2008, this one is simply the best — dinner at The Observatory on Grouse.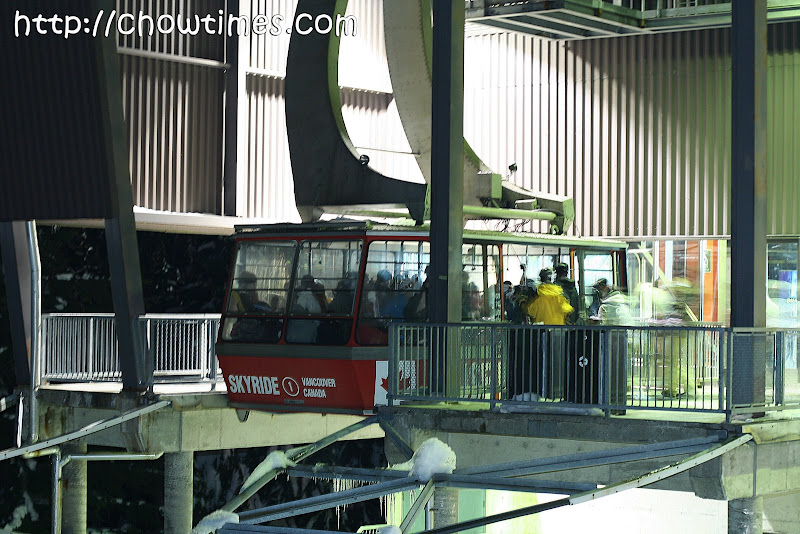 The prix-fixe dinner is $35 but it not includes the dinner but also the Sky Ride gondola ride up the Grouse Mountain and a show too. I heard that the price also included a sleigh ride and skating on the pond but that we did not try. Considering that a ride up Grouse is about $27, this $35 dinner is simply best value for money.
We went on a Thursday evening and had a table for 5:30PM. The Sky Ride was nothing to shout about because it was absolutely packed with skiers and snowboarders. Each car can pack in 100 people (amazing!) and they made sure they had a full car before they moved. The Sky Ride travels every 15 minutes and just took minutes to get up to the chalet.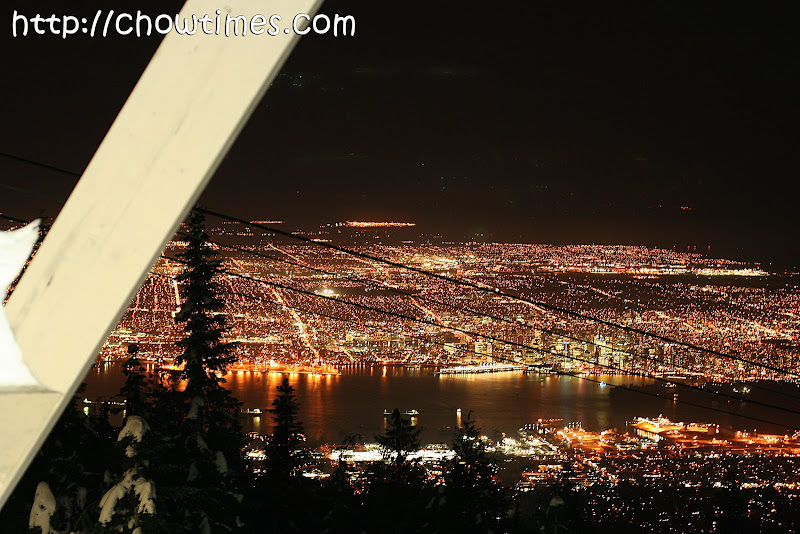 The view from the top of the Grouse Mountain were stunning at night. It was clear sky that night which was fortunate seeing how much rain and snow we had the past couple of weeks. This view is what makes Vancouver so beautiful. I can't think of a place with a setting this this in the world.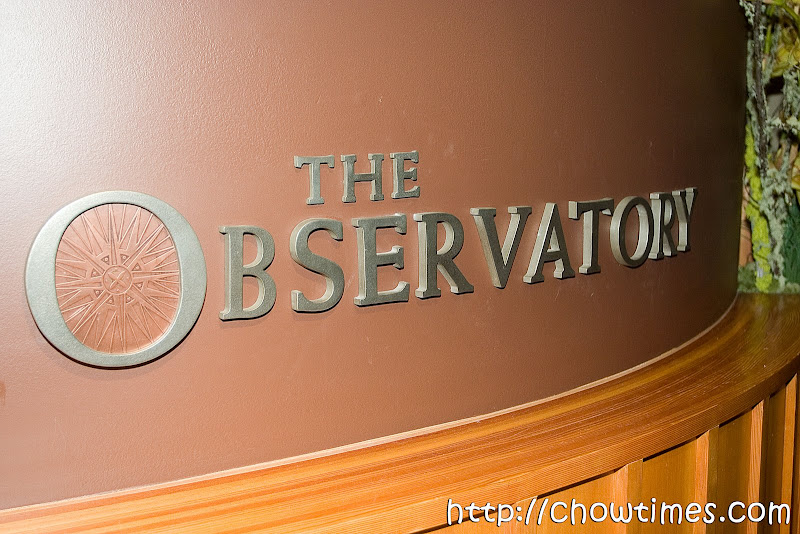 The Observatory is located at 3,700 ft is Grouse's Fine Dining restaurant. We were informed before we went that the dress code is business casual. I think they don't want to see people walking in with ski boots and jackets (or in summer, shorts and T's from trekking up the Grind).
We were quite intimidated … the service was impeccable. The people spoke soooo softly and moved sooooo slowly. And we were just rushing from work and got crunched on on the tram ride up. These guys think of everything … took our coats to the cloak room, showed us the way to our table … and reminded us to turn off our cell phones. Now, that I like!
Really, I would describe the service as very polite, soft spoken and they move very … errrr … gracefully, much like a ballet dancer. If not for the fact I was quite hyper from work that day, I would have loved it.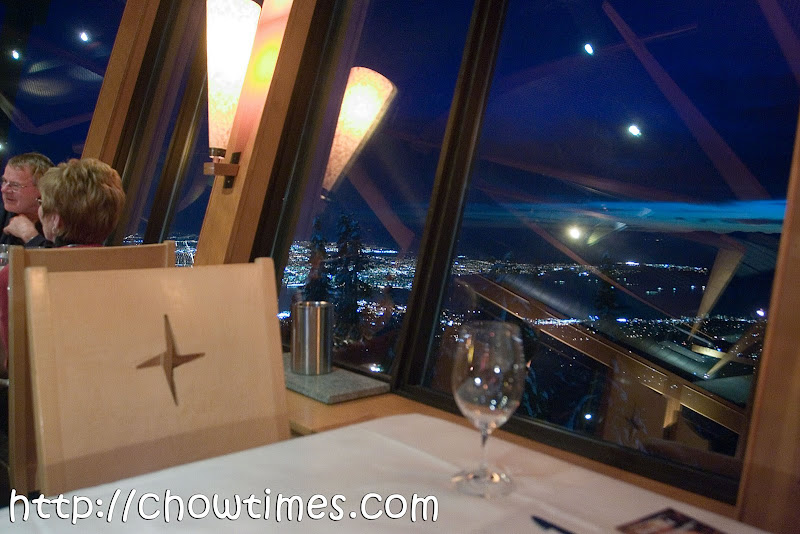 They gave us the table with a great view of the glittering Vancouver downtown. We could see the sun was just about to set. It was really beautiful and just what I needed from another hectic day at work.
I noticed that while it was freezing cold outside, it was warm and cozy here.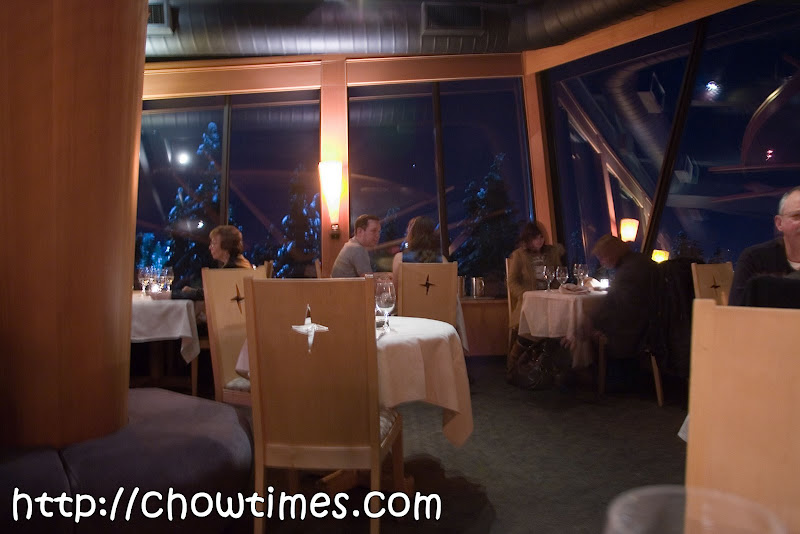 The place is unbelievably quiet and not surprising because of the romantic setting. This is not a place for an after work drinks! The only "ruckus" we heard was this family of four celebrating the mummy's birthday when they sang the birthday song.
The place was not fully booked as we can see quite a few empty tables. About half the tables have views, which was very good considering the fact that many people want to dine here because of the view.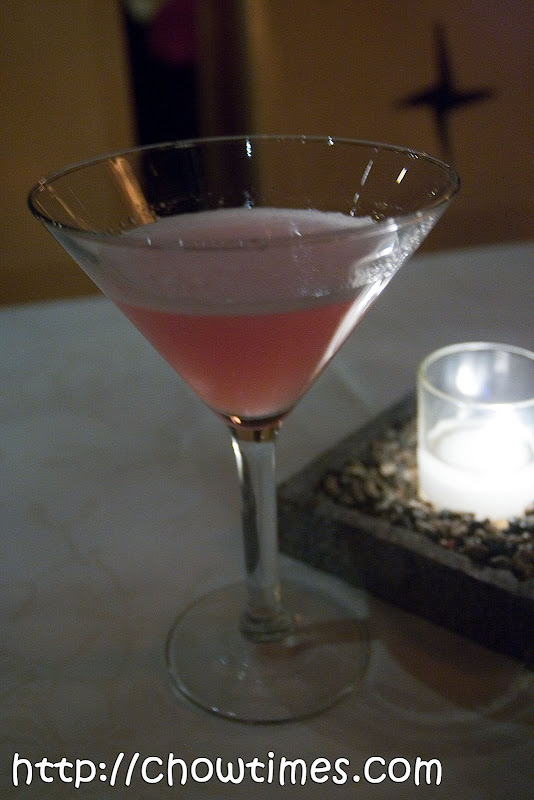 The Observatory had a very extensive wine list … no, it was more like a wine book. We counted — it ran into 24 pages long. The most expensive bottle was $1400 and there are quite a number running above $1K … wow!
We got something considerable cheaper. The Koola cocktail was only $9. Served in a martini glass, it is raspberry with light alcohol.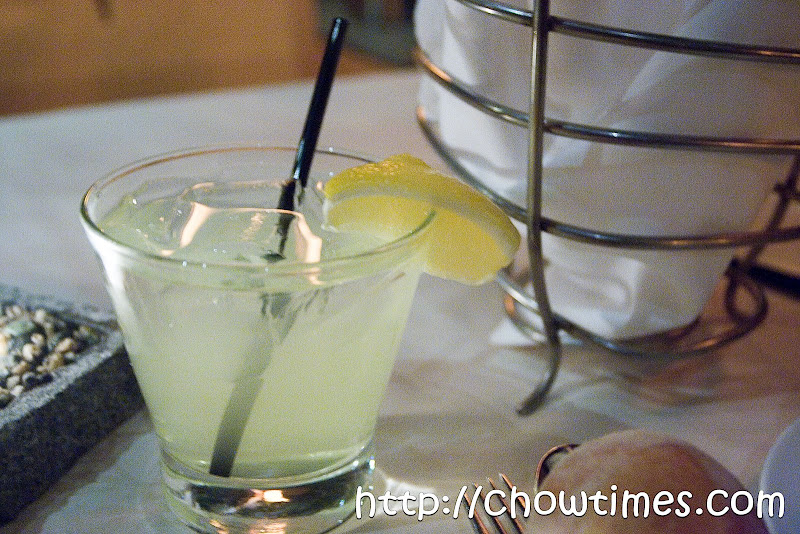 Suanne had a glass of lemonade.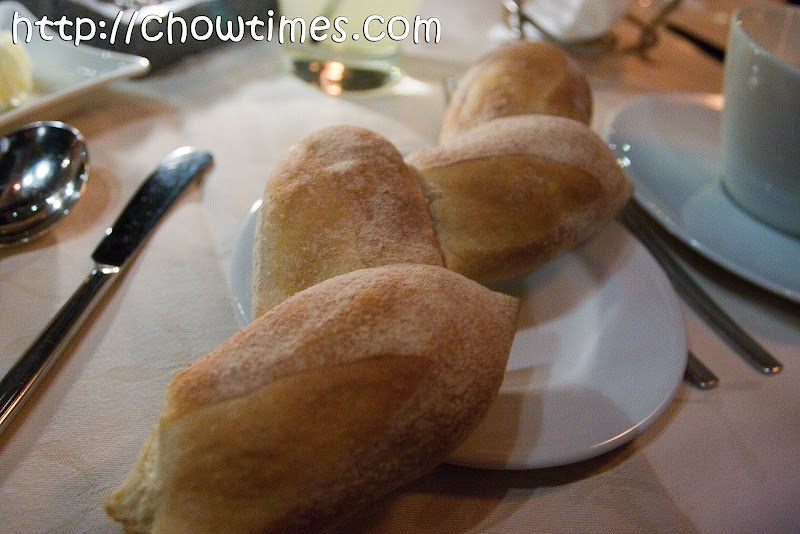 The Observatory's house bread was shaped like interconnected leaves and was fresh and warm when served. It really felt it it was just fresh out from the oven. We knew it would be good when we broke it with a crunch. Perfect.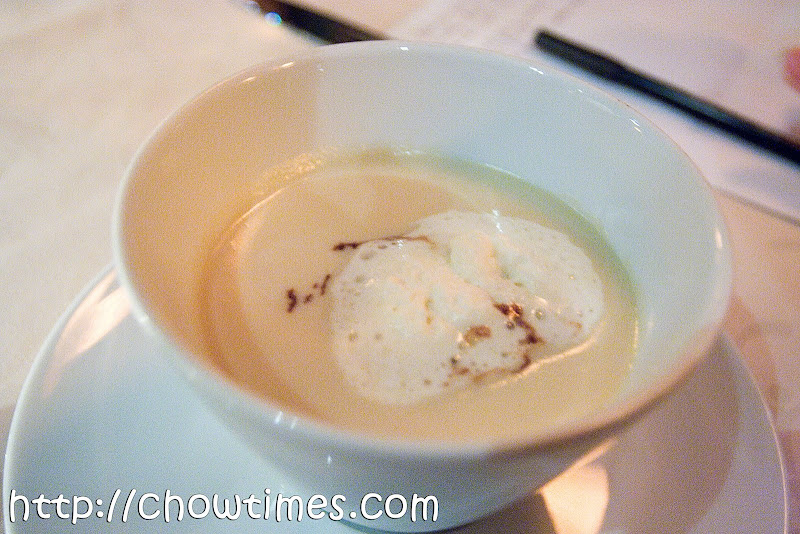 Again, we shared dishes between us. The first appetizer was the Cream of Shallot Soup with pancetta chantilly and orange vincotto (whatever!). It was creamy and rich. Being Asians, the taste of shallot on this soup is really great. Love it.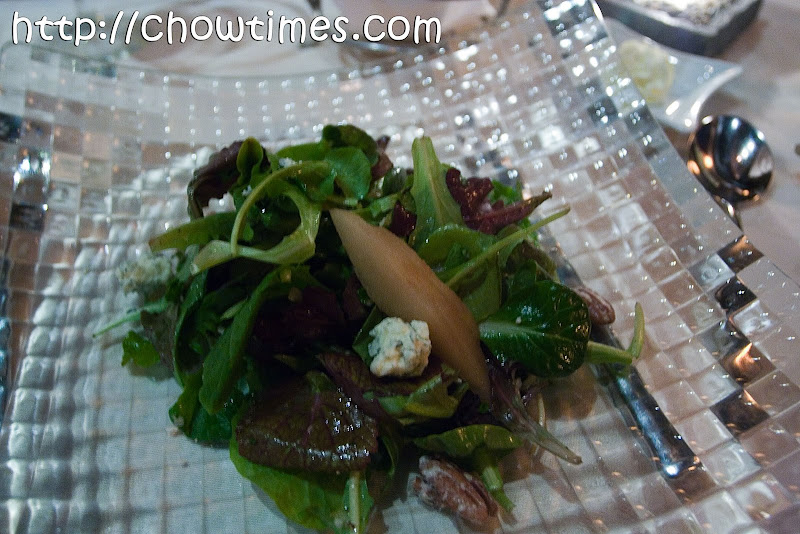 The Salad of Poached Bosc Pear and Roquefort consists of organic winter greens, candied pecan and pear walnut vinaigrette. Although we are not normally salad types, this was actually good. The blue cheese in this leave a lingering taste mixed with the slight sourness of the dressing and crunch of the candied pecan. I would say that the taste was … explosive!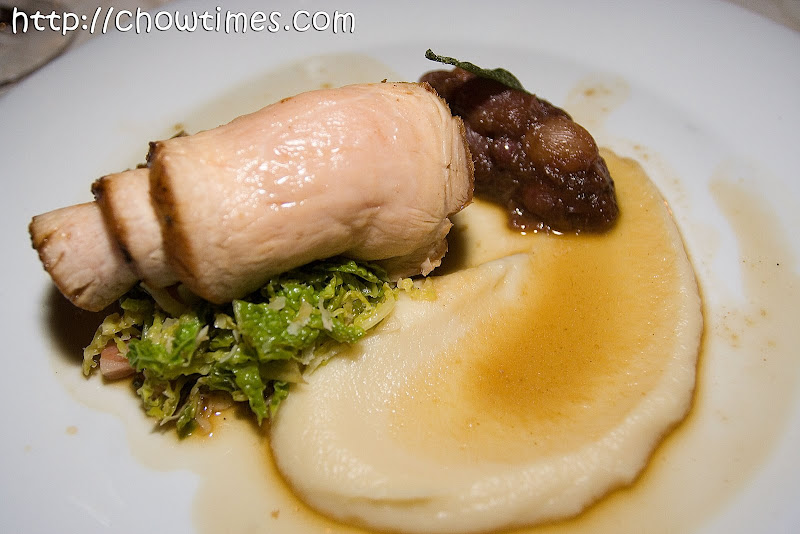 My Roast Loin of Pork came with spiced pear and parsnip puree, apple grape chutney and sage jus. The pork was moist, juicy with a crusty side — very nice. It was served folded up which makes it easier to cut and eat it "in place" (know what I mean?). Mmmm … mmmm … mmmm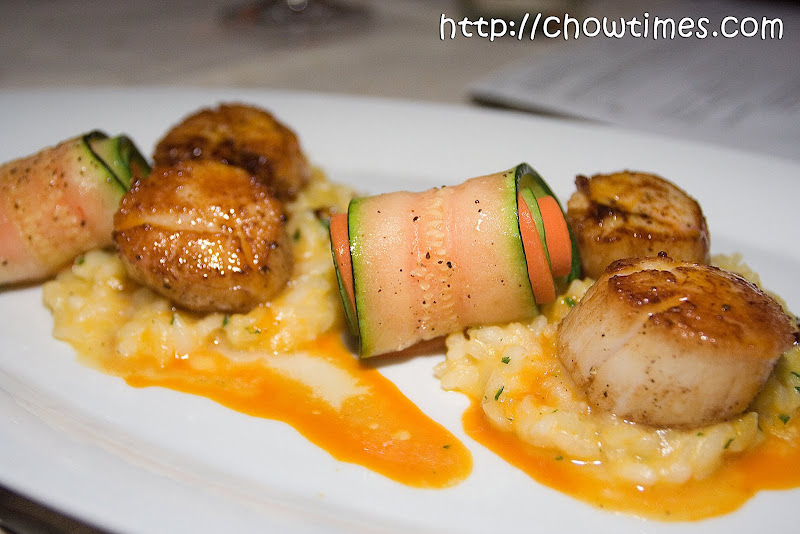 Suanne's Sea Scallops had butternut squash risotto, carrot blood orange emulsion and some of the prettiest vegetable ribbons we had seen. The scallops were fabulous with its flavour that lingers at the roof of your mouth for quite sometime. Even as it was served, we could smell the aroma of the seared sides of the scallops. This is simply the best that night … the "springiness" of the large scallops balanced quite well by the seared crust. Oh yeah.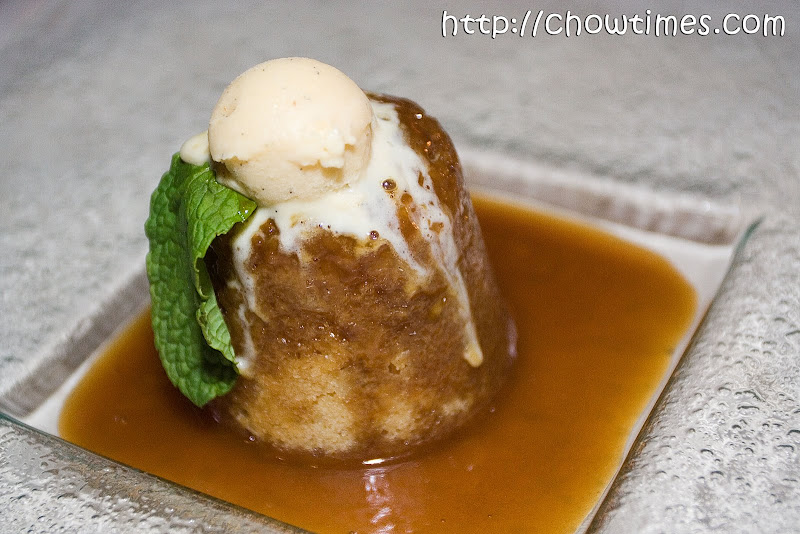 The Sticky Toffee Pudding had a dollop of vanilla bean ice cream on top. The pudding was warm and very sweet and when combined with the cold sorbet, it was simply marvelous. It was like something you had to eat with your eyes closed to experience.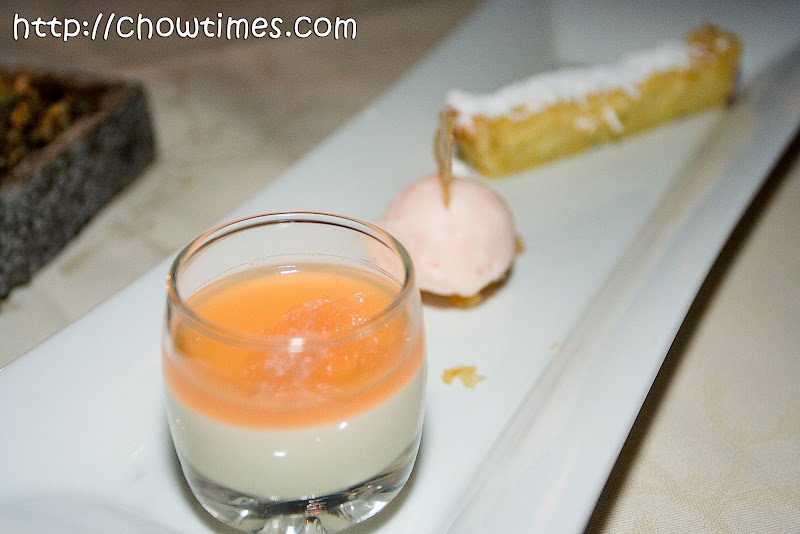 The Assiette of Grapefruit was something else. It was a combination of three little desserts made chiefly from grapefruit — a grapefruit tart, a baked yogurt with grapefruit jelly and a Campari granite, sorbet. The sorbet was not bitter and had a crunchy/chewy rind while the pie/bread had a soft custardly filing — nice. To Suanne, this was the best dessert she had in a long time.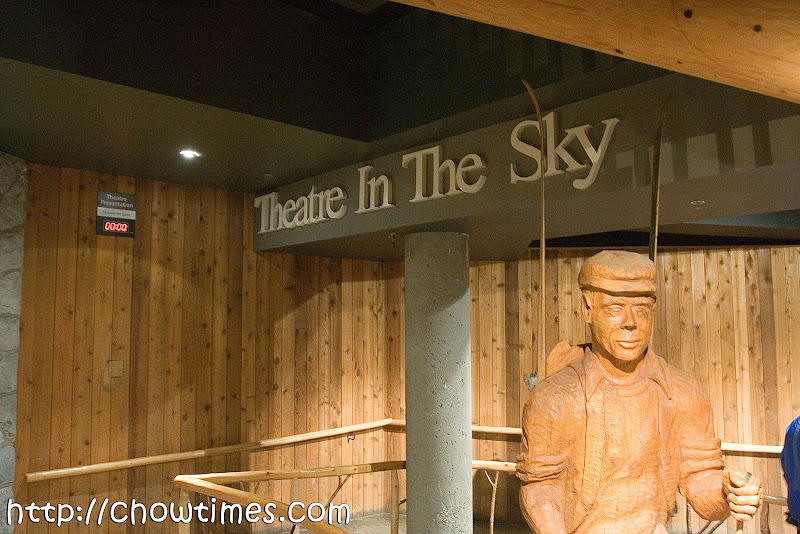 After the dinner, we went to the Theatre in the Sky to watch a documentary on British Columbia …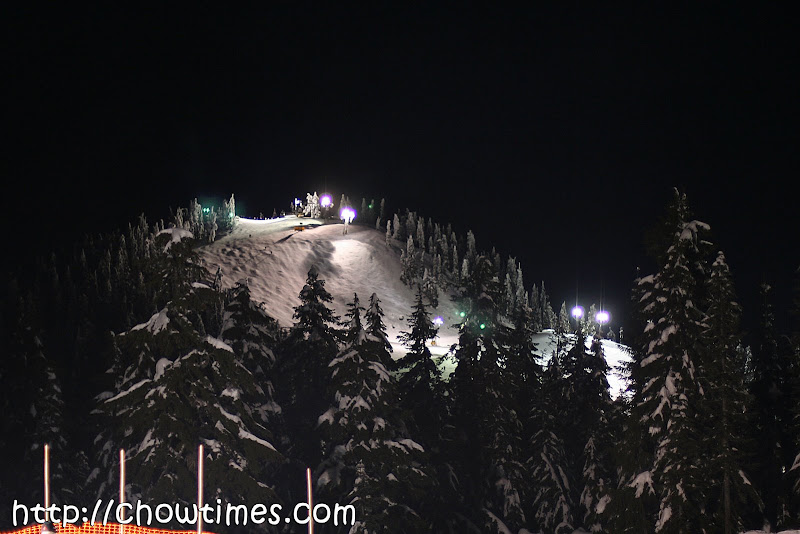 … and took a walk around the chalet. By that time, the slopes were quieter and the crowd somewhat thinning. It was already dark and that is why the sleigh ride had closed. Otherwise, it would have been a great way to end the evening.
The total bill came to $100. For what we had, it was worth every cent. We highly recommend The Observatory on Grouse, especially for those of you who wanted to have a special, quiet, romantic moment.
Again, the Dine Out Vancouver price per person was $35. On their normal Prix Fixe menu, it is $110, albeit the menu is only slightly different. I guess by the time I blogged this, the Dine Out Vancouver is over … but next year, you should make it an attempt to dine here. Don't bring a group of boisterous friends here … bring someone special.
3 people like this post. Click yellow thumbie on the left if you like this post too.