The second dish which Minoo demonstrated from the book Deceptively Delicious was called Turkey Chili with red pepper and carrot. Minoo substituted the lean ground turkey with lean ground beef as she was not able to find ground turkey when she did the groceries shopping for the ingredients. Minoo also used the real pepper and carrot instead of puree as in the original recipe as there is no children in the community kitchen.
Ingredients
1 tablespoon olive oil
1/2 cup chopped red onion
1 lb ground lean turkey or beef
2 cloves garlic, minced
1 tablespoon chili powder, or to taste
1 teaspoon salt
1/4 teaspoon sweet paprika
1/8 teaspoon ground black pepper
1 (15 oz) can chopped tomatoes
1 (26 oz) carton reduced fat low-sodium chicken broth
1/2 cup red pepper puree (we used 1 cup chopped red pepper)
1/2 cup carrot puree (we used 1 cup chopped carrot)
1/4 cup cornmeal
2 tablespoons flaxseed
1 (15 oz) can kidney beans, drained and rinsed
Click on the link below for the instructions.
Instructions
Coat the bottom of a large pot with cooking spray (we left out the cooking spray step) and set it over medium heat. When the pot is hot, add the oil. Add onion and cook until it begins to soften, about 2 minutes. Add in the minced garlic.
Add the meat to the pot and break up the meat with a wooden spoon. Cook the meat until no longer pink, 5 to 6 minutes.
Add the chopped peppers and stir fry for another minute. Season with paprika, chili powder, salt and pepper.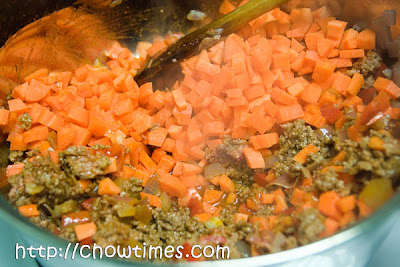 Add the chopped carrots and mix well.
Add in the flaxseed and cornmeal.
Stir in the canned chopped tomatoes.
Add in the chicken broth and bring it back to a boil, reduce the heat, and simmer, covered, 15 to 20 minutes or until the flavours have blended.
Lastly, stir in the beans and cook a little longer, just to heat them through. I was surprised that my kids actually like chili because it contains beans which they usually dont eat. They probably learn how to enjoy this dish as chili is often served in camps. A one pot dish which is filing and nutritious.

Minoo, thanks for sharing the book Deceptively Delicious with us.